Wickedly Witty Wares for Witches, Wiccans and Pagans!
Including Mugs, Smartphone Cases, T Shirts, Maternity Tops, Pagan Baby items,
Bags, Home Decor, Posters, Bumper Stickers, Gift Wrap, Postage Stamps* and more!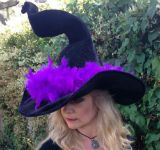 All other Cheeky Witch products are available from the following outlets:


Scroll down to see examples of the Cheeky Witch products currently available on Zazzle!

If you wish to contact me please send an email to kaz@cheekywitch.co.uk Thanks!
*Postage Stamps from Zazzle are USPS approved for the USA only.

Copyright © 2009 - 2014 Karen Bourner. Cheeky Witch. All rights reserved.
Visits Stats